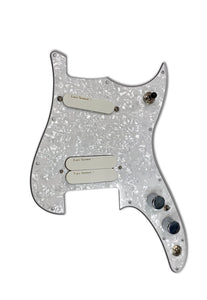 The Lace® Custom Shop Duo Sonic DS (My Pearl) Loaded Pickguard will fit the recently reissued Fender Duo Sonic guitars. It features a Lace Sensor® Gold/Gold Dually in the bridge, and a Lace Sensor® Gold single coil pickup in the neck position. 
Pre-wired for "Dually" mode (front coil/both coils/rear coil) this pickguard comes equipped with a 3-way toggle switch, a mini toggle switch, steel barrel knobs, 250k Alpha pots and Military Aircraft style wiring that provides extra shielding and grounding, while making the pickguard highly resistant to failure caused by vibrations. Three tones in one from the Dually, and the legendary singing midrange, & high-end sparkle from the Lace Sensor® Gold pickups makes this a no brainer for upgrading the sound of your Duo Sonic.
Gold/Gold Dually – a thick, robust humbucker with a smooth Strat like top end.
Position: Neck and/or Bridge
Resistance: 12.1 k
Peak Frequency: 2600 Hz
Inductance: 4.9 henries
Lace Sensor® Gold: A classic 50's Style single coil sound with a classy bell tone- 5.8k