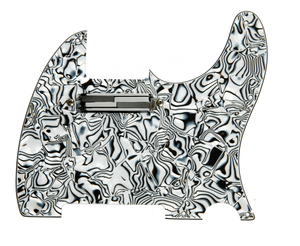 The Lace Custom Shop Aluma-Tele (Tuxedo Crush) Loaded Pickguard comes with a Chrome Alumitone® Single coil pickup. This is a drop in replacement for your current Telecaster Pickguard. However if you so choose, it can be equipped with a 3-way selector switch (Series/Parallel) and 250k Alpha pots mounted on a chrome Tele plate. Just send us a message and let us know that you want the control plate as well.
The Tele guard will fit most American or MIM Fender Telecaster guitars.   
Alumitone® Single coil- Bold, powerful and aggressive tone that cuts through in any setting.
Position: neck, mid, bridge
Resistance: 2.5k current driven output. Perceived output: +/-7.5k
Q Peak Frequency: 2343 Hz
Inductance: 3.0 henries